H2O SOS Wireless Residential Water leak Detection System Packages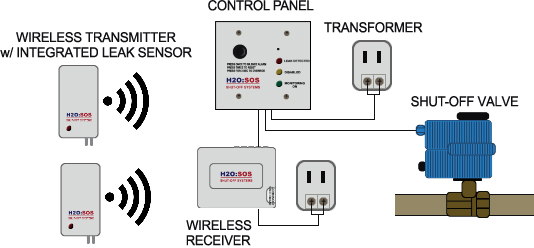 Wireless configurations are most popular for applications where a fast installation is required and/or it is difficult or impossible to run wire to the desired leak sensor locations (eg. fully-finished house). Wireless configurations require a wireless receiver and at least one wireless transmitter. These components add additional cost but, since no wiring to the sensors is required, the ease of installation can reduce installation labor costs. The transmitters require periodic battery replacement (approximately every 3 years).
Our standard pre-packaged, wireless residential systems come in 3/4" or 1" valve sizes (larger sizes available). The valve is installed on your main incoming water line to your home. The control panel can be installed anywhere in your home that is convenient for you to access and you can run wire to from the control valve. Power is obtained from a standard electrical outlet using the supplied 24 volt AC transformer. Wireless transmitters send a signal to the wireless receiver connected to the control panel when a leak is detected by one of the sensors (combined with or hardwired to a wireless transmitter).
Wireless Residential System Packages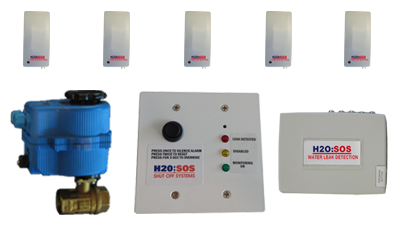 Note: Number of sensors chosen when adding to shopping cart.
H2O SOS 1" System Package
MSRP: CDN$2116.00
Starting at: CDN$
1354.00
Choose # of Sensors: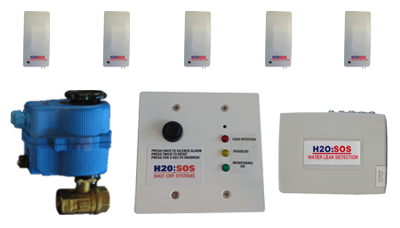 Note: Number of sensors chosen when adding to shopping cart.
H2O SOS 3/4" System Package
MSRP: CDN$2066.00
Starting at: CDN$
1322.00
Choose # of Sensors: